Journal Entry:
Fri Nov 11, 2011, 12:20 PM
Photoshop Actions: the professional's tool, the beginner's crutch, the salesmen's bag of tricks
tldr: Learn how to post edit. Don't rely on actions developed by others and don't pay for them. Develop your own actions. Resources to help you along the way are all over the internet.
I recently released two Photoshop Actions, Bohemian Sundance and Parisian Rain, available for download for free on my website JFotography:
jfotography.yolasite.com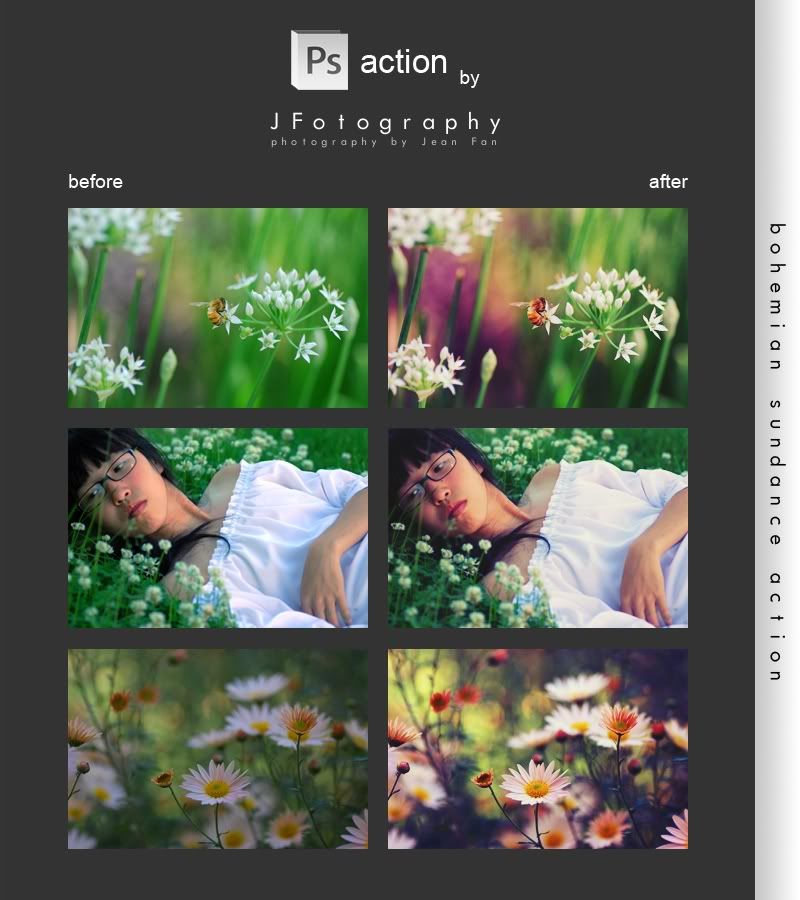 Photoshop Actions, along with GIMP scripts, and other scripted, systematic, post editing procedures, can be very useful for professional photographers who have to edit a large number of photos in a short period of time. They are also useful for quickly surveying a large number of potential post editing routes, say if you want to go for a vintage feel, bring out cool or warm tones, etc.
But, as one size rarely fits all, Photoshop Actions will generally not do the best job of post editing. Each photo will still need its own set of tweaks and checks. Unsurprisingly, post editing is generally done best when tailored specifically to one photo to address its individual needs. Still, Photoshop Actions can provide a lot of helpful guidance in the post editing procedure.
:thumb84766938:
With that being said, Photoshop Actions can also become crutches particularly to beginner photographers and beginner post editors who are not yet too skilled at post editing. Beginners may be tempted to simply use Photoshop actions developed by someone else to perform an array of post editing procedures to enhance their photos instead of learning how to use curves, channel mixers, and other post editing tools thereby crutching and impeding the learning process.
Perhaps more troubling is that salesmen market these Photoshop Actions as easy, sure-fire ways to enhance your photography with the click of a button. And people pay good money to purchase these Photoshop Actions, often in the ranges of $20 to $200. The truth is if you find a Photoshop Action you like that's available for purchase, there's likely a very similar one available for free.This journal entry is filled with links to free Photoshop Actions on dA alone! Don't be fooled by marketing. Often, just because it costs more doesn't mean it's better. Plus, you can always try to make your own Photoshop Actions to perform achieve similar effects with a little trial and error.
So does this mean that you should never spend money on Photoshop Actions? Not necessarily. The decision comes down to an evaluation of the worth of your time and the worth of the Photoshop Action developer's time. If you've found a Photoshop Action you like, you can either spend a few moments of your time looking for something similar or better yet learning how to post edit in a similar manner, or you can appreciate the time the developer spent on making the Photoshop Action and just buy it.
:thumb83425009:
Ultimately, Photoshop Actions are but generalized, condensed summaries of post editing procedures. If you know how to do post editing and how to develop the procedures, then you can make your own Photoshop Actions and sell them if you wish. But the knowledge will take you much further and in the long run will be worth much more.
Here are some excellent resources for how to make Photoshop Actions:
blog.epicedits.com/2008/03/07/…
photo.tutsplus.com/articles/po…
www.google.com/
As always there's a lot more where that came from all over the web. You just have to search a little.

Thanks for your support!